---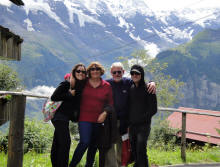 This whole thing was Maggie's idea.

By the time we took off, she had already been in Europe for six weeks, wandering around on her own in various countries. Tommy had been there a while too, in different countries. They met up in Spain for a few days, then flew to Milan where we picked them up and took over their room, board, transportation, education, and cocktail needs.

Maggie's trip involved hostels and house-sitting arrangements in Z

ü

rich, Pietrasanta, Rome, Florence, Nice, and Marseilles. Tommy went to Lisbon. They house-sat in Barcelona. They made new friends and sampled bars everywhere. No doubt you can read all about it on Facebook or some such thing.

Casey stayed home, on the job, and we all wished he could have come along.


| | | |
| --- | --- | --- |
| Click any picture for a larger image | | |
| | the travelling Dill kids | |
The Travelogue



Awful, cramped, noisy flight on British Airways with bad food and a three-hour layover in London. Highlight was the lemon tarts at Heathrow Starbuck's.



Zürich airport is typically Swiss, meaning not a speck of dirt or inefficiency. We quickly emerged from it in a rented VW van, followed signs to Zentrum and were well into town before we found a place to pull over and try the new GPS.

Before the trip I went to Best Buy and acquired a portable Garmin GPS with a European map set. It was useful on the trip, but nowhere near infallible. For one thing, it didn't seem to know its way around Zürich very well. Sometimes it got confused on highway on-ramps and wanted me to take the next right, which turned out to be a dirt road. Funniest was the pronunciation, which sounded like some sort of Texas robot -- "Strasse" came out as "Striss," "Autostrade" became "ought-o-strayed," and some of the Italian ones like "Via Dello Rosso Ventini" were like confused blasts of static.

Lodging was at Hotel Altstadt, a cute place tucked away on a little alley near the water. Our room was dedicated to Franz Hohler, an author of Swiss children's books who had evidently stayed there and left a shelf of them behind, along with a blackboard covered with his handwritten German.

| | | |
| --- | --- | --- |
| | | |
| | the postcard view from the bridge | hotel was near the quai and the lake |
hotel entrance was in a cozy little g

ä

ssli
not yer airport Hilton
a staircase from the room led to this
nice roof garden, featuring a good
view of other people's roof gardens
| | | |
| --- | --- | --- |
| | | |
| view from the roof | wife attempting to look Zürichian | source of the hourly chimes |



You can drive vertically across Switzerland in 3-1/2 hours. Our route was over the Gotthard Pass, which was not as scenic as I'd hoped because during the best part we were in a tunnel -- 17 km long preceded by a 10-km line of traffic. So much for the idyllic drive.


Z

ü

rich to Verbania via Gotthard
over and through lots of wrinkles

On the other hand, here's what passes for a highway rest stop in Switzerland: a lovely little village surrounded by Alps and castles, like this one called Fl

ü

elen, near Altdorf.


| | | |
| --- | --- | --- |
| | | |
| | a stop on the Swiss railway | probably watched over by monks |
downtown Flüelen at rush hour
the first of many stops
for Swiss coffee
freight trains moved through town
no doubt loaded with cheese
We were still in the mountains when Switzerland became Italy, but shortly thereafter found ourselves on a narrow winding road through a series of little villages along Lake Maggiore. Destination: the Grand Majestic Hotel, near the village of Pallanza, in the region of Verbania, in the province of Piedmont, if I got all those categories straight.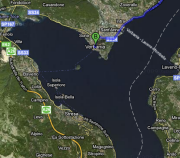 Aug 8-9: Hotel Grand Majestic, Pallanza

This is a delightful hotel, on the water next to a quiet little street which provides a pleasant walk to the village and its dozens of outdoor cafes. Across the lake we could see Stresa, a popular tourist spot, which we later drove through and found to be noisy and hectic.

Typical day: swim in the lake; lounge on the lawn; a spot of tennis (there was a free court with loaner rackets); cocktails; nap; walk to town; dine Italian. I could get used to this.


| | | |
| --- | --- | --- |
| | | |
| view from the balcony | view to the north: Alps | to the south: lago |
the Grand Majestic
built in 1870
the lobby
the walk to dinner
there was an abandoned estate
on a little island behind the hotel
photogenic
at all hours



Here's what was supposed to happen. Go to Lugano, spend one night, the next day drive to Milan, meet kids at the airport gate, then return to Lugano for two more nights.

Here's what happened instead. Go to Lugano. Find it noisy and crowded. Find hotel adequate but sort of city-like and cramped. Hastily call the Grand Majestic, manage to reserve two more nights there, make up a story so as to cancel the next two nights in Lugano, pay penalty for this rashness, then celebrate with expensive Swiss dinner.

| | | |
| --- | --- | --- |
| | | |
| view across Lake Lugano | view from the balcony | Italian dwellings across the water |
| | | |
| --- | --- | --- |
| | | |
| | next day: sun attempting to show up | grump attempting to wake up |

The adventure continued the next day. We had a smooth drive to Milan, got there in plenty of time, calmly walked into the airport and checked the arrivals board. No flight from Barcelona. Turns out Milan has another airport,

Malpensa,

20 miles west of town, in which the kids would shortly be landing. So the next hour involved a panicky and illegal exit from the airport parking lot, accompanied by a loud scraping noise around the rear fender; a frantic dash along the freeway, during which we were pulled over by a car with flashing lights to tell us that our bumper was dragging on the ground; confusion at the mystifiying walled-over entrance to Milan Malpensa airport; and finally a lucky spotting of wife on escalator by bewildered kids in airport lobby.

Dinner in Pallanza that evening would require multiple carafes of wine.




a table of Dills by the lake
view of Pallanza
from the balcony
this place had the best
pizza we ever ate



Next day we headed from Italy back into Switzerland, and, as it turned out, left the sun behind for the remainder of the trip. This time the route was over the Simplon Pass, without a tunnel, so quite scenic. Driving over this pass was not difficult, and from the map it looked like all we had left was a straight road down a valley, so I figured we were out of the woods and would be checking into the hotel in an hour or two.

Wrong.


planned route from Brig
red box indicates detail map at right
Grimsel Pass
alternative route from Brig
via L

ö

tschberg

Consult the left map. The road out of Brig did indeed go down a pleasant valley through a series of picturesque little towns, but then around Oberwald it started to tend upwards, the curves got sharper, the air colder. We came around one sharp bend and found ourselves looking up at a giant wall of mountainside, with a steep switchback going all the way to the top, like a monstrous ladder. Wife asked nervously, "Are we going up there?"

Yup, up we went. Consult the middle map. By the time we got to the top, the kids were dizzy, and the fog so thick that we almost failed to notice that we were driving alongside a body of green water. There was a huge dam up there, with a strange occult painting on it, and the whole thing was spooky and surreal.

We zig-zagged most of the way down the other side when the traffic came to a complete stop in a little farming village enshrouded in fog. Seems someone had put a sign across the road saying halt, the road is now geschlossen. I inquired and got a blast of Swiss which had something to do with a rock fall, possibly being cleared, so we would have to wait in typical fashion by heading into the local st

ü

bli for beer and pommes frites.

Afterwards the report was that the repair might take all night, so it became clear that we were going to have to drive back over that monstrous pass, back down the thirty-mile valley all the way to Brig, then turn right and go try a different pass.

Clearly another multi-carafe evening was in store.

We survived this ordeal, and it wasn't all bad because the alternate route provided a new experience -- an exhilarating ride through the L

ö

tschberg tunnel, sitting atop a steel-bed flatcar, in our car, whizzing along at 60 MPH, in pitch dark. Way cool.


L

ö

tschberg
auto-train
through the tunnel




on the train, ready to roll
view out the windshield
before it all went black



While the tourists were piled up in Interlaken, we stayed in this quiet little village on the "other" lake a couple of miles away. The hotel dates from the fifteenth century. Last year they reluctantly gave up bucking the trend and installed TV in the rooms.

| | | |
| --- | --- | --- |
| | | |
| views from the room | the lake is Brienzersee | view toward the village |
| | | |
| --- | --- | --- |
| | | |
| Hotel Seiler Au Lac | as seen from the lake | near a few other hotels |
feeding the ducks
the hotel provided leftover
bread chunks for them
rare sighting of Tommy
without headphones
| | | |
| --- | --- | --- |
| Nearby was this interesting sand and gravel company, in a great old building like something out of a beginner's model railroad setup. A cable carries a scoop (shown at far right) down into the water, where it grabs a pile of gravel from the lake bottom, hauls it up and dumps it into the chute (at right). This is operated by a guy in a little shed across the channel. Great clanking sounds. | | |
| | dumping a load of gravel | heading down for another |



There is a path from Bonigen to Interlaken so you can walk there along the lake in 40 minutes. We started to do this, but the boat was arriving, so we took that instead -- a 20-minute ride to the Interlaken Ost station, followed by a short ride on the train to Interlaken West, where the serious shopping began.


| | | |
| --- | --- | --- |
| | | |
| the good ship Jungfrau | sailors on break from swabbing | Swiss coffee amidships |
| | | |
| --- | --- | --- |
| | | |
| Interlaken Ost | | Dining in Interlaken |



Within a short distance of Interlaken are the three best peaks in the Alps: Jungfrau, Eiger, and M

ö

nch. Our plan was to view them from M

ü

rren, a delightful little town perched on a mountainside, which on a clear day has a dazzling view of the peaks. The ride to it involves a cable train which goes up the mountainside from Lauterbrunnen at a 60-degree angle, and another which winds along the ledge for a couple of miles.

For a really fantastic view, there is a cable tram which goes up from M

ü

rren to Schilthorn, a restaurant at 10,000 feet surrounded by snow. But the live webcam that day was showing it enveloped in fog, so we decided to bag it and save 70 francs each by taking a walk instead. Maggie gets credit for this idea.

We walked downhill through some gorgeous Alpine meadows into the little town of Gimmelwald, where we had a fine Swiss lunch on a picnic table. A cable tram then took us back to M

ü

rren, and two trains later, back to the car.



| | | |
| --- | --- | --- |
| | | |
| enjoying the views | the Familie Dill, Minus One | clouds came and went |
| | | |
| --- | --- | --- |
| | | |
| where the real Happy Cows are | viewing the world from atop | why, it sounds like Maria |
| | | |
| --- | --- | --- |
| | | |
| a new standard in picnics | downtown Gimmelwald | noch ein bier, bitte |



Final stop was in the little town where we lived for a year when Maggie was two and Tommy five. We stayed in the hotel in the middle of town, and spent two days revisiting old haunts.

Allschwil activities included tennis at a local indoor club (who knows, maybe Federer played here once), a nice walk through the countryside, a visit with Tommy and Evelyne (catching up after 22 years), dealings with a delightful old Swiss mechanic who completely restored the car bumper for 150 francs, and of course, more Swiss coffee and beer.


| | | |
| --- | --- | --- |
| | | |
| | the Number 6 tram to Basel | serving its passengers |



We lived in a skinny three-level house on this little street a short walk from the center of town. Memories came flooding back on seeing it again. Tommy and Evelyne Monney walked to kindergarten from here, Casey took a daily tram to the International School of Basel, while Mags mostly sucked her pacifier.


Rebg

ä

ssli 29
our home in 1988
street where Casey got
that scar on his chin
our three decks
in the back
the back yards
with our beloved neighbor
Marguerite Monney
two moms who
raised kids together



We were looking forward to a nice evening in Basel, a beautiful and elegant city in 1988, but sadly less so now. For one thing, there was a lot of construction, and the most distinguished old buildings were covered with scaffolding. M

ü

nsterplatz in August is taken over by an outdoor movie theater. Barf

ü

sserplatz was teeming with noisy non-Swiss young people, and there was a lot of graffiti. We had to walk a long way to find a place we could eat for under $50 a head; ended up at a raucous English pub with bad nachos.


strolling across the Rhein
canonical view of Basel
showing the Grossm

ü

nster
Dills am Br

ü

cke

We still love Switzerland, but for our next European trip (which will be in 2032 if we keep to our current schedule), we might have to do more Italy. on three separate flights, cameras and memories full, wallets empty.


---