Dills' Trip to East Coast
April, 2016
We don't travel much these days, so when we do manage to get up out of the chairs it is an occasion to be chronicled.
Most of the pictures enlarge when you click on them.
---
Airplaning With Dog
United doesn't make it easy. You have to deliver the dog to a special cargo office a mile from the airport, and he has to arrive there three hours before flight time, which meant that this trip began with our stumbling out of the house at 2:30 AM.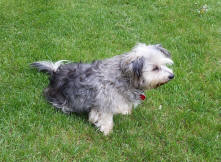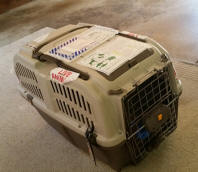 Small baggage goes into small container, snoozes all day.


The real travel horror story was on the way home. It seems that the health certificate from the vet was perfectly acceptable for the trip out, but by the time of the return flight, it was two days out of date. So there we were in the Newark airport with a cart of luggage, no car, two hours until flight time, Sunday afternoon, and this surly agent is telling us we have to go out into the streets and find a vet and get a new certificate or we can't fly the dog home! Wife solved the problem with the brilliant idea of having our local vet send a fax.
---
Long Island
First stop: Ken and Jolanda's great house at Port Jefferson, halfway out Long Island. Water views out the front, swimming pool in the back, huge kitchen, lots of rooms, beach nearby, beautiful neighborhood of stately homes.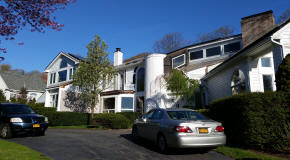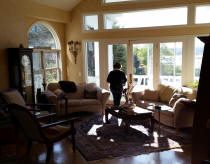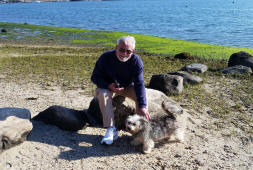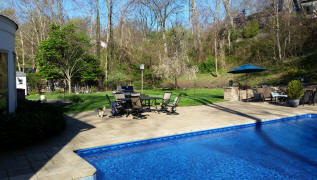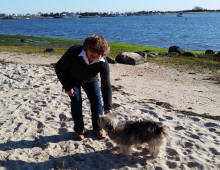 Scenes of the Dill Estate at Port Jefferson. Attentive viewers will note Jolanda's unique parallelogram window.
Entertainment included a viewing of John Waters' film Polyester, which opened with an overacted scene by our cousin Rick Breitenfeld, and went downhill from there.

Lots more worthwhile was the tour of the Laufer Center, Ken's institute at Stony Brook, a top-notch research facility which didn't exist until he put it together.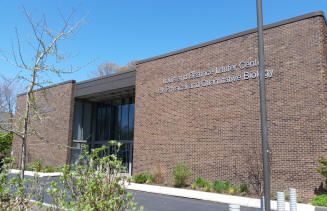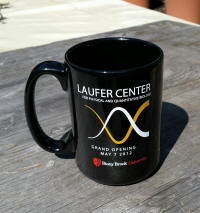 Laufer is the guy who gave the money, Dill is the guy who created and staffed and runs the institute.
Ken gave me this mug and explained the logo -- I forget, either a smiley face with mustache or an oncoming fish.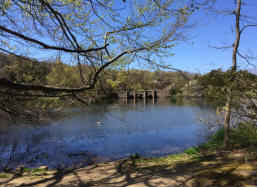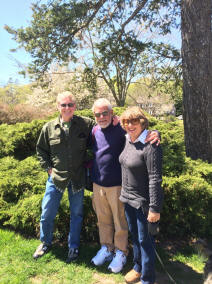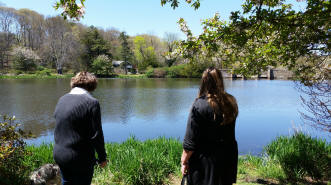 Old people hanging around the Stony Brook campus.
---
New Jersey
It was right on the way, so we stopped in Westfield, the lovely little town where I spent grades 5-7 while Dad worked in New York. The town is still charming and green, despite proximity to Industrial Jersey.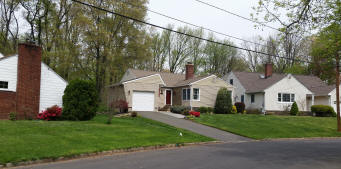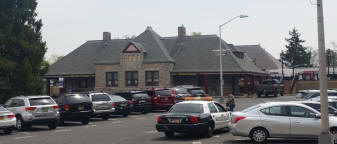 The house at 20 Tamaques Way. There was once a huge weeping willow in front, but it was ripped out of the ground
during a hurricane as we watched. On the right, the train station where Dad commuted to the city.
It was just a short stop, then on to Princeton, where I went to graduate school in 1971-76.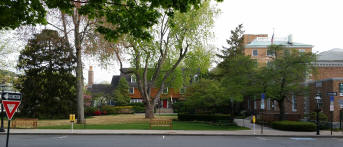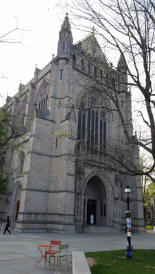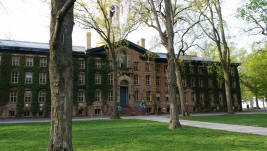 The Nassau Inn and shots of the Princeton campus. Few students are in sight because it is barely 9 AM.
Famous Norman Rockwell painting of Yankee Doodle behind the bar at the Nassau Inn.
The traditional thing to do when visiting one's grad school is to stop in the library and look up the old thesis. Not only did I not find the thesis, I didn't find the library! The venerable Frick Lab is turning into an economics building.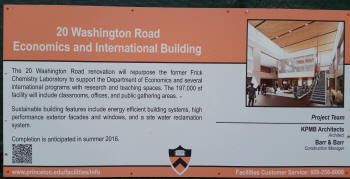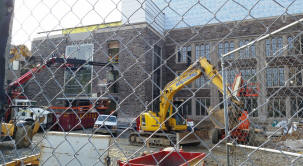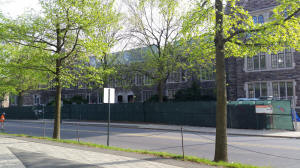 The former Frick Labs, under construction and off-limits to aging alums.
---
Lancaster
Next stop was Lancaster, not far from Princeton so we dawdled along the way. Stopped at Valley Forge, poked around the countryside. A time or two we got behind a slow-moving Amish buggy, felt guilty looming behind them in our monstrous vehicle.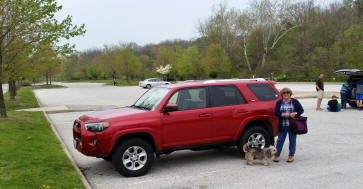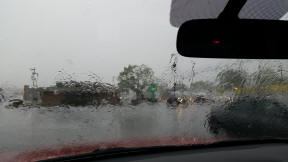 The yuppie family touring Valley Forge in their SUV. Right: what happened instead of Lancaster city tour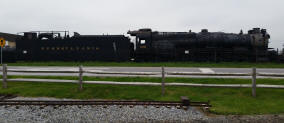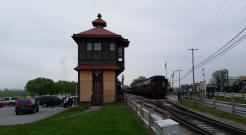 Strasburg Pa, center of railroad activity

Countryside dotted with picturesque Amish farms
The main purpose of this stop was to visit my beloved Uncle Don, soon to be 96, living comfortably in a nice retirement home outside of town. We had a delightful visit, and it was great to see him after all these years.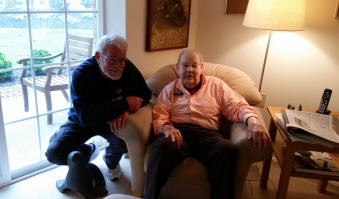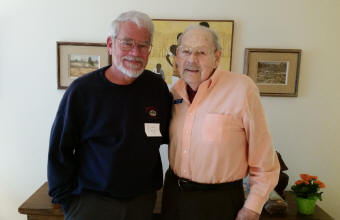 With Uncle Don at his lovely Cal-decorated apartment
It was at this point that the nice sunny weather disappeared, and the rest of the week was cold and rainy. May 1st, it's 43 degrees out. How do people live like this?
---
Pittsburgh
A mere five-hour slog across the Pennsylvania Turnpike (every bit as narrow and foul-weathered and truck-filled as I remembered) is Pittsburgh, the place where (a) I spent some months doing research during grad school, (b) Trevor's favorite football team resides, and (c) DeAnne's mom was born.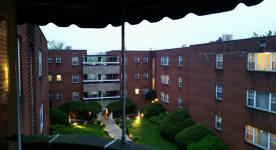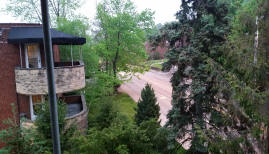 The Shadyside Inn in the Shadyside neighborhood near Carnegie-Mellon
We stayed at a nice old-fashioned brick residence inn, walking distance from the Carnegie Library, where Mom did research among the microfilm while Dad and Hobie strolled around campus. Research turned up several documents about her grandfather, Charles DeBosserville, immigrant from France. Originally we were hoping to find his burial spot, but it turns out he was cremated.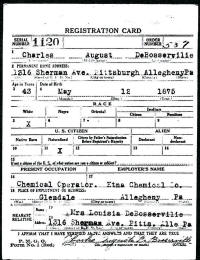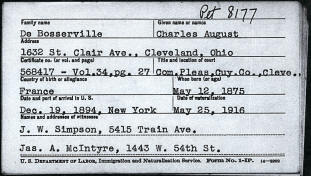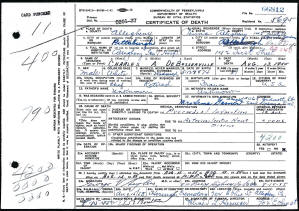 Chas. DeBosserville: draft registration card 1918, immigration card 1916, death certificate 1955.
The initial plan was to spend two days in Pittsburgh, driving around to see the stadium, rivers, etc. But here is something I discovered on this trip: it no longer makes any sense to think about driving a car around a city for the purpose of touring it. You will just be sitting in traffic. Doesn't matter what city.
---
Poconos
Final stop on the trip was a resort in the Poconos, rolling fields which they call mountains. Views were nice from the bar.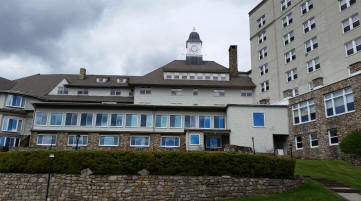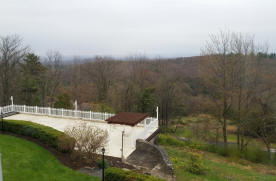 The Inn At Pocono Manor, a formerly-grand resort now accessible by the likes of us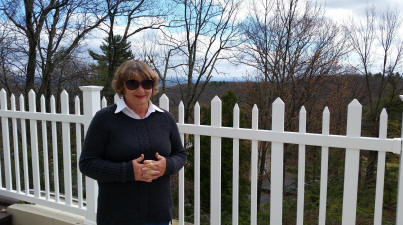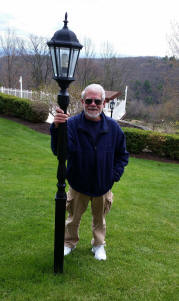 Old folks posing outdoors in between rain storms
All in all, a worthwhile trip and a nice adventure, but plenty of travelling for a while.
---