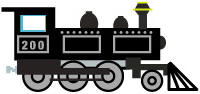 Ocean Shore

Feb 2008
There is an empty wall in my office. A normal guy would put a bookcase there and hang a few pictures, but to me it has always looked like a good place for a railroad. So I decided it's time to stop staring at the wall and start building. Here goes.
The Room
It's a standard size room, about half full of furniture, with a window on the north wall and a closet on the south. Dimensions are accurate in this Visio drawing (north is at the left):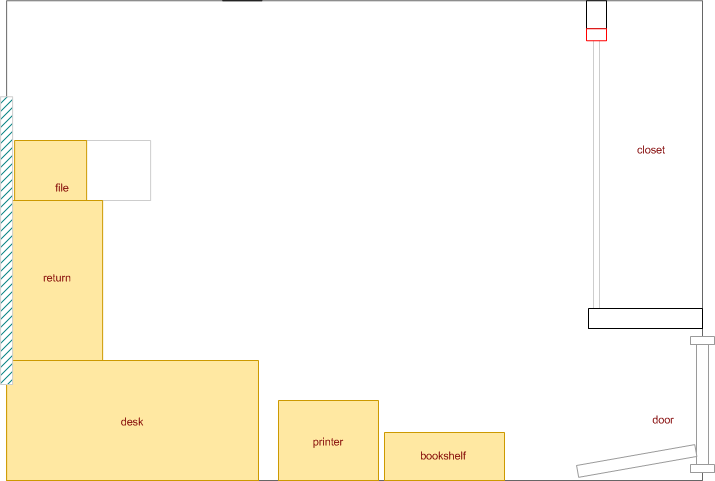 The available space is along the east wall, with room for a bulge into the center, and possible expansion into the closet.
Guys with basement empires will laugh at the piddling amount of space I have available. It's not enough to run a train continously (which would require two 36"-diameter circles to form a loop); if I use the closet, it will have to be on a middle shelf, with boxes and shelves above and below; if I go too far into the room it will obstruct the closet, inhibit dancing, etc.
Still, it's about as much space as I can hope to fill, given the rate I move and my various distractions. I think it's plenty of space for an interesting layout. What it calls for is a switchback arrangement, like the Cerro Azul (#47, one of my favorites in 101 Track Plans for Model Railroaders), featuring multi-level track, dense scenery, and short trains. Just my style.
---
The Railroad
There's no question about the railroad I want to model -- it's the same one I started to build twenty years ago, when I was listed in the NMRA Registry as holder of the name -- the Ocean Shore, a scenic tourist line which ran from San Francisco toward Santa Cruz in the early 1900's. It never quite recovered from the earthquake of 1906, never made it all the way to Santa Cruz, but made a lasting impact on the coast, and carried a lot of rich folks to beautiful picnic sites along the Pacific.
The most dramatic part of the trip was along the face of a mountain at Devil's Slide, near Montara:
Parts of this ledge are visible today, just beneath where US 1 goes over the pass. In fact a lot of the Ocean Shore is visible if you know where to look. I know this because my old friend and former coworker Jim Nourse lives in Half Moon Bay, near where the line ended (in a big wye) and he has become an authority on the subject. One time he took me for a drive along the coast, pointing out landmarks like a former passenger station now morphed into an Asian restaurant.
The Ocean Shore is perfect for what I have in mind. Engines were steam, trains were short, scenery was dramatic. The route it ran is about an hour's drive from where I sit.
For more about the Ocean Shore, see:
Ocean Shore Railroad - Wikipedia
Ocean Shore Railroad Car #1409 Restoration Committee
Amazon.com: Ocean Shore Railroad - Images of Rail
Amazon.com: The Last Whistle: Ocean Shore Railroad: Books: Jack R. Wagner
---
The Plan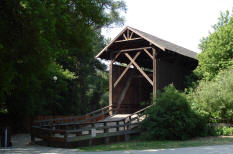 I'm going to take liberties with the prototype. I want the line to extend beyond Half Moon Bay to Felton, a cute little town in the redwoods north of Santa Cruz. The family likes the place because the grandparents lived there for years. It's home to the Roaring Camp Railroads scenic steam rides, and it has a great old covered bridge, still standing, which would make a great model.
There were several stops between Half Moon Bay and San Francisco. I plan to include two: Montara, because (a) it has a fine old hotel which would make another nice model, and (b) my brother lives there; and Pacifica, the largest city on the coast, where I envision a busy oceanside yard. The Pacifica Historical Society is sure to have lots of helpful data.
It shapes up as shown in this track sketch. Details and most of the yards are yet to be designed.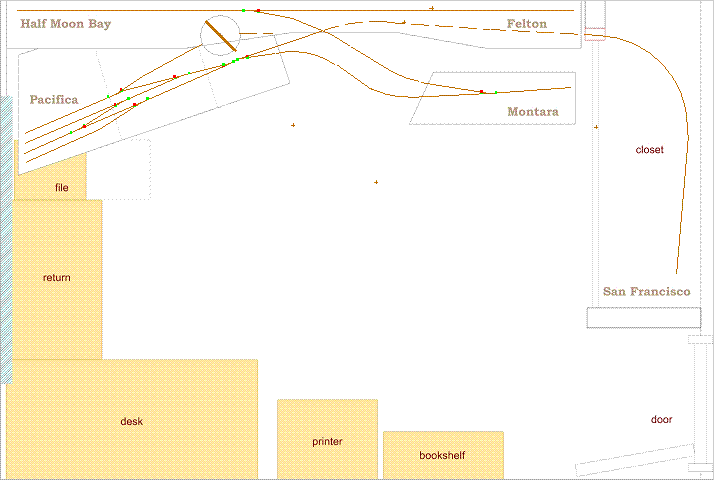 The Pacifica yard is prominent in the foreground. From there the scenic line goes up and south, curves across Devil's Slide to Montara, then switches back and continues climbing through a tunnel to Half Moon Bay in the upper left. A shelf goes at eye level across the wall, through redwood forests and covered bridge to Felton.
A hidden line beneath the scenery goes south from Pacifica through a small opening into the closet, where there will be a storage yard, someday to become the industrial area of 1905 San Francisco.
This picture was produced by TrackLayer, a fine product from TrainPlayer International, using the new Export Image feature. I've been adding features as I go along in this track designing mode. I have more to say about software tools and layout design, in some future installment.
---
The Implementation
One factor behind this design was the way I plan to go about the construction. I sit in my office all day, so I'm not keen on a scheme which requires me to spend evenings in there too. I'd rather work in the family room, in the vicinity of kitchen, TV, and wife. I can't very well build the whole railroad in there, but I can build parts of it.
I thought I'd start by setting up a piece of plywood and building a yard. I'm eager to put some track down, see if the old locos still work, get some switches going, do some wiring, build a control panel, sprinkle some ballast. Once the yard is ready, I'll move it into the office and build benchwork around it. I can do all the yards this way, on slabs of plywood, to be installed when ready.
---
Yard construction begins
I started work last weekend, outdoors on a sunny day. First order of business was to build something to hold the plywood off the floor, a combination hobby bench and portable benchwork. I didn't design this very carefully, just sawed some boards and built a 2 x 2 box frame held together with glue and screws.
| | | |
| --- | --- | --- |
| | | |
| building the sides | 2x4 legs, 1x4 braces, drawer rails | the box takes shape |
| | | |
| | | |
| weighting the plywood to reduce warp | the basic yard unit on location | adding a drawer and shelf |
| | | |
| | | |
| | yard and bench in position, ready for track | |
---
Coming Next
Designing the Pacifica yard.
---